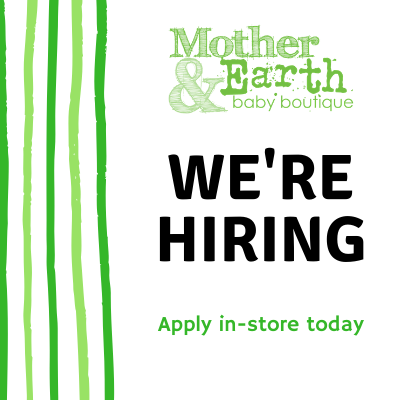 Mother & Earth is hiring immediately!
What a 2020 it has been! We are so fortunate to say that despite the circumstances, we have continued to grow and thrive over the past 3 months. As we adjust to new ways of operating, we are looking to expand our customer service team. We are looking to hire 2 new MEBB team members.
Job Summary
Want to work in a fun boutique environment full of local growing families and some of the best baby products available? Mother & Earth Baby Boutique is Lansing's destination for gift giving, baby essentials and so much more.
Responsibilities and Duties
-We are passionate about the products we carry and we expect our team members to be educated and knowledgeable about all our products.
-Listen and connect with customers to pair them up with perfect products for their family.
-You must be friendly & outgoing. Connecting with customers and giving them the best shopping experience possible is our standard.
-Self motivation is key. You'll often work on your own and be expected to complete tasks as needed.
-You must be detailed & organized. We have a small team and everyone is expected to complete all tasks and keep the store in a detailed and organized fashion. We do not have room for clutter and chaos.
-You will be expected to become a Certified Passenger Safety Technician for car seat installation checks. Training is offered 2x/year.
-You will be required to do some heavy lifting up to 50lbs.
-Gift wrapping is a free service we offer. You'll be expected to wrap gifts to our standard in a timely fashion.
-Available 15-30hrs/wk: 2-3 weekdays (approx 1p-7p) and most weekends (Sat 10a-8p and/or Sun 12p-5p)
Qualifications and Skills
You must be willing to offer amazing customer service. We need team members willing to execute all responsibilities and duties as these are key to help us continue to grow into Greater Lansing's full service baby boutique.
Benefits
We Offer...
-Flexible hours
-Team based bonus program and
-Generous employee discounts
-Training and continuing education
-You the ability to help and support growing local families.
If you or someone you know is looking for a job like this and want to join the Mother & Earth team on our journey, submit a completed application, current resume, and cover letter in person to Mother & Earth. We are located in Old Town Lansing at 1212 Turner St, Lansing, MI 48906. If you have questions please contact Lynn at 517-721-1868 or [email protected]
Thank you,
Lynn Ross
Boss Mama
Mother & Earth Baby Boutique